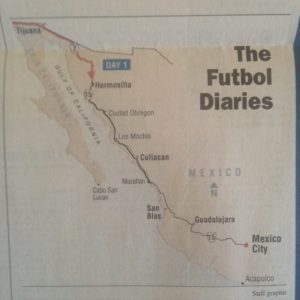 This ran as Day 1 in the March 2005 Futbol Diaries road-trip series — ahead of the U.S. national team playing Mexico in a 2006 World Cup qualifying match at Azteca Stadium.
It can stand a bit more context.
We had begun the day in Southern California, and we were driven down to San Diego and then across the border and into Tijuana where we were dropped off at a car-rental site.
We lost several hours in picking up the car and finding our way out of the sprawling, mostly unmarked city and to Highway 2, which skirts the northern border of Mexico.
The idea had been to go Hermosilla and file my report from there, but falling behind schedule meant stopping at the sad, dusty town of Caborca (just as well we had never heard of the Crabb Massacre) well before we had reached the major north-south road in that part of Mexico, Highway 15.
We cruised down the main road of Caborca and eventually found an internet cafe. (Remember those?) It was while in there, hunting and pecking on the typewriter of a desktop computer, that it really struck me that perhaps the whole of this Mexico road trip was a bad idea.
My recollection is we bought tacos from a stand somewhere on the edge of Caborca. After filing, of course.
The piece cannot show us having successfully reached Hermosillo, but we did, in the early morning, and we woke someone who let us check in at the hotel after a very long day in the Sonoran Desert of northern Mexico.
So, here we go, from March 23, 2005.
CABORCA, Mexico — First admission: You simply cannot drive from Tijuana to Hermosillo, deep in Sonora state, in less than 11 hours.
To think otherwise is First World arrogance of the first order. You do not just turn up at the Tijuana airport, get your documents in 10 minutes, your car in 10 more and hop on the autobahn for an effortless drive among luxury sedans.
Oh, no. You are pointed from one office to another in search of a tourist card. And you would be there still if a bilingual woman had not translated for the Yankees and the Immigration official.
Then you wait out the laborious delivery of your rental car, which looks as if it already has done battle (and lost) with miles of rutted TJ roads. And then you promptly get lost for a half-hour in the honking, fume-choked warrens of Tijuana. …
Well, you are not going to be knocking out 540 miles in seven hours, like you might expect while cruising Interstate 10. That is why we are greeting you from The Net, an Internet cafe in the desert town of Caborca, about 120 miles south of the Arizona border — and about 250 miles short of our destination later Tuesday night, Hermosillo.
Think of Caborca as a sort of Barstow on the road to glamorous Hermosillo/Las Vegas. It has no obvious reason to exist other than to service travelers.
Yikes. One taxing day of dodging aggressive drivers, puzzling over cryptic road signs and stopping repeatedly for directions, with co-driver Damian Secore giving a workout to his high school Spanish. (Muchas gracias, Senor Murphy.)
Most Americans nutty enough to drive to Mexico City to see a soccer game (or mom and dad) do not begin in TJ. They go to Tucson, Ariz., then head south, crossing the border at Nogales and staying on main roads all the way.
We, however, wanted a more fully genuine Mexico experience, so we took Highway 2 from Tijuana.
A few hours on that mostly two-lane strip of pothole-pocked asphalt gives a person great insight as to why the U.S. gains about 450,000 soccer fans/undocumented immigrants annually.
Anyone in their right mind would want to escape this part of Mexico. By means legal or otherwise. The corridor from Mexicali to the south-of-Yuma town of San Luis Rio Colorado makes Tijuana look like Bel-Air.
It must be the world capital of junkyards. There are more wrecks here than on L.A. freeways during the season's first rain storm. Maybe they should give up soccer as the national sport, there, and take up demolition derbies; they have wrecks aplenty from which to choose. Or maybe this is where American wrecks come to rest/rust. Hmm.
Driving is an adventure, as well.
Did we mention the two-lane road? Nothing quite focuses the mind like doing 85 mph for hours on end on a road with no shoulders, no turnouts, no rest stops and nothing but a white line dividing you from oncoming traffic.
You do not want to dwell on what might happen to you if you suffered a blowout, at 80 mph … but we are thinking it involves numerous complete rotations of a disintegrating subcompact car.
Perhaps the saddest and weirdest part of the journey, aside from the cardboard/plastic shacks, was crossing the Colorado River. The once mighty river is reduced to a pathetic trickle at San Luis.
Ankle-deep, even after a rainy winter. It seemed twisted. Unnatural.
Also strange: Paying 13 pesos (a bit more than $1) for the privilege of entering Sonora state from Baja Norte. (Imagine Nevada stopping your car and charging you money to enter the Silver State.) And the innumerable roadside shrines to (we presume) accident victims.
Perhaps the most revealing part of the journey, so far: Studying a 50-mile stretch east of San Luis. There, Route 2 runs directly next to the U.S. border. Within spitting distance.
All that separates a struggling campesino from the economic boons of El Norte is a fence about four-feet high, and stripped with a few strands of wire.
Anyone could get over that fence, and if he or she had some provision and avoided harsh desert weather, they could walk to, say, Yuma, in one day. Like, oh, any number of the young men we saw riding in the backs of pickup trucks near that part of the border.
A Pew Hispanic Center study released Monday indicated that 10.3 million undocumented immigrants are in the U.S. right this moment. Nearly 6 million of them Mexicans.
Now, back into the Sonoran night. Lots of stars. Moon out. A temperate evening.
However, every English-language Mexico guidebook ever printed insists, shrilly, that visitors not drive here after dark … but, hey, the hotel at Hermosillo already is paid for, and we are thinking of a couple of cervesas, and maybe some soccer talk with the locals. Bandits, wrecks, mechanical breakdowns? Won't happen to us. More First World arrogance, yes.
Tomorrow: From Hermosillo to Culiacan.